Glasses can be quite expensive. Eyeglasses can be especially expensive when you buy the designer frames. Where can you go and get cheap prescription eyeglasses?
You can get doctor quality prescription glasses online for a fraction of the price of what you typically pay. You can even find them for as low as $6.95.
Compare that to $100 to $200 for what you would buy at an eye doctor.
You can take your eye prescription and send it off to one of these online stores, and they will send you your glasses in the mail.
Online Stores For Cheap Prescription Eyeglasses
Here are some places to buy online:
Zenni Optical
EyeBuyDirect.com
GlassesShop.com
What About The Quality?
If you're worried about the quality then at least consider buying a cheap pair as a backup. Most people have two sets of glasses in case one gets lost, broke, or if you take them off and can't see to find them again.
You can have your expensive pair as your everyday glasses and use the less expensive ones as the emergency backup. It beats paying $200 for two sets of glasses if you hardly ever wear one.
Retailers That Sell Cheap Prescription Eyeglasses
According to Consumer Reports, Costco tops the list of stores for getting your eyeglasses at the best price.
What If You Want Stylish Prescription Eyeglasses?
That's where Warby Parker comes in. Warby Parker set out to offer designer eyewear at a discount price – from $95 and up. From the website: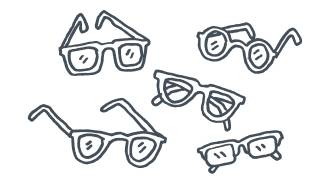 Pick 5 frames
Warby Parker will mail them to you for free. Try them out for 5 days and see which ones you like.
Buy at any time
Make it your own by purchasing online and they will send you a fresh new pair.
Return your frames
Once your 5 days are up, place your box in the mail with the prepaid return label. Done!
If you're looking to be stylish at a discount, check them out.
How To Get Started Investing
The international bestseller by CERTIFIED FINANCIAL PLANNER™ Scott Alan Turner. Choose the right accounts & investments so your money grows for you – automatically. No jargon, confusion, or pie in the sky promises. Just a proven plan that works.